I won't tell you the kind of technical difficulties I've been having, maybe you have been seeing them live!!  Let's try another block party this week and see how it goes!
We are continuing with the Farmer's Wife Sampler Quilt blocks.
Although this one and this one were done out of order, we are now doing block #4.  It's called Basket Weave, which is self explanatory.  Although I am not too keen on their color choice, interestingly enough, I am not the only one who thinks this block looks "unfriendly."
So I played a little with the color placement to steer the eye to a different focus. Can you tell? It was easy enough to do, just make 4 rectangles in three different fabrics and sew together for a three strip unit, then arrange those to make the block.
 I stayed with the same layout as the book but by using the loud red for the center strip in doesn't quite emphasize that "other" shape!  Krystine over at Pretty by Hand did hers this way. (on the left)
and Amanda made these below, which compile the first four in the sampler.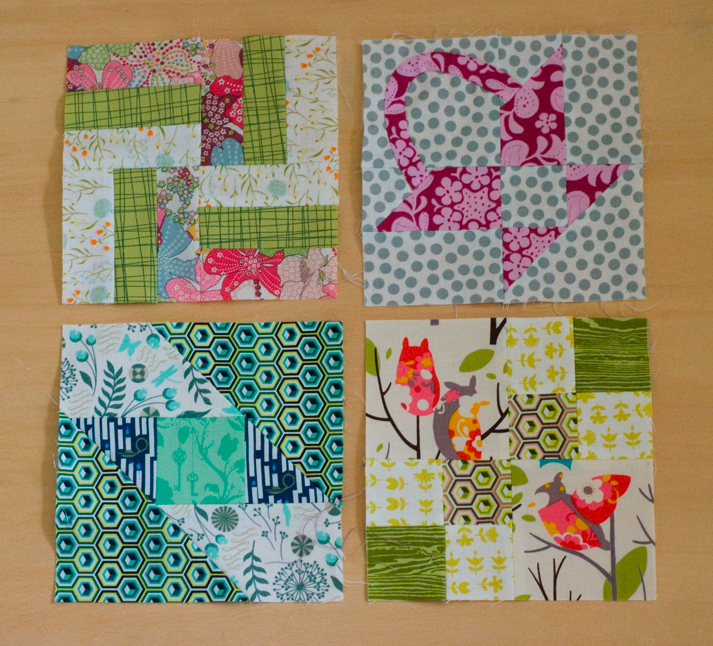 I'll be pulling out my scraps again soon, to make another batch of FWQA blocks. I'm warning you though, it's addictive!
Please feel free to link up with any and all that you've made. Any links or comments qualify you for a charm pack giveaway! And I'd love to see them.!!  And thanks to our sponsors!